Recycled minerals wanted but not always valued
"We had interesting conversations about the demand and value of recycled products, sparked by a poll I asked the participants, who are some of the leading experts in the field of mineral recycling, to take part in," says David, Chief Marketing & Communications Officer at LKAB's Business Area Special Products.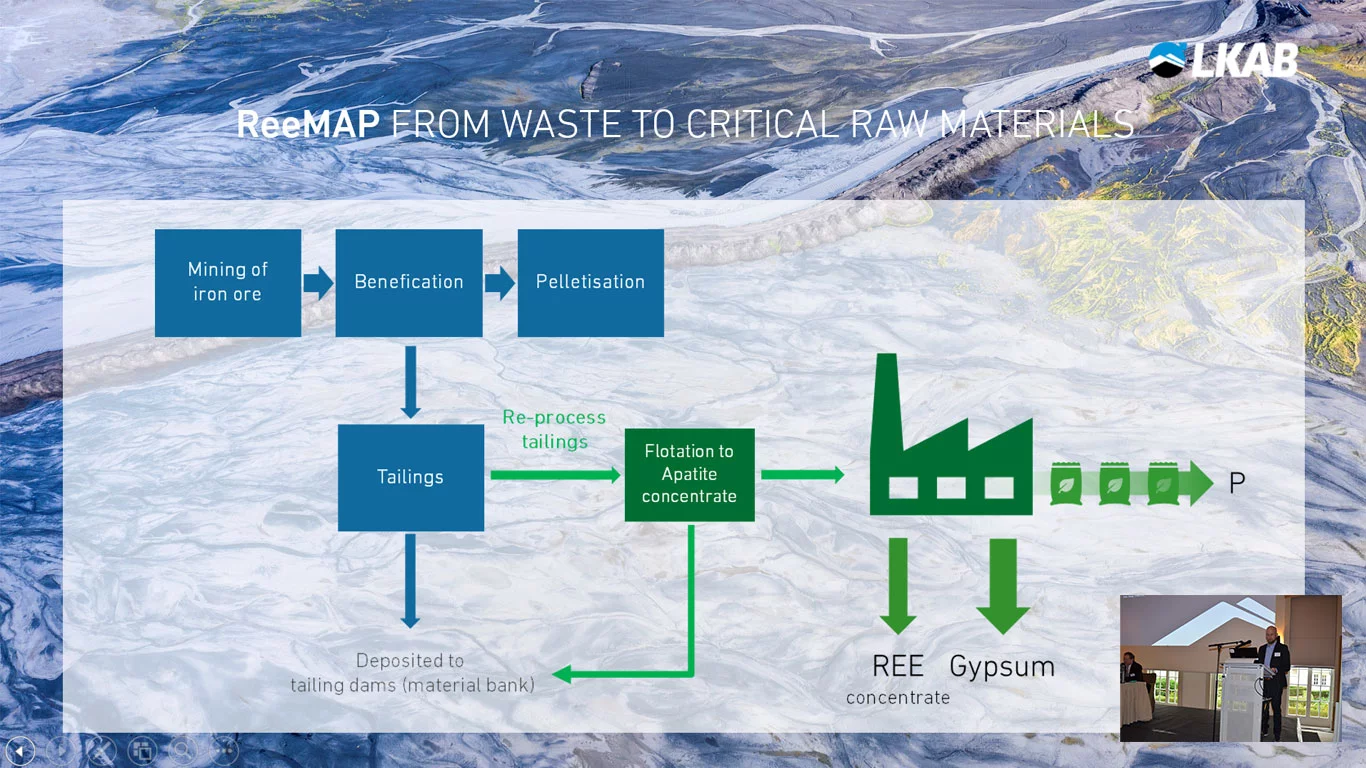 Turning today's waste into tomorrow's resources
Recycling and upgrading have become a crucial part of LKAB's strategy; complementing virgin mineral extraction and includes several by-products that would otherwise be waste, that LKAB Minerals upgrade to valuable resources. Therefore, the ReeMAP project was a specific focus at the Mineral recycling forum presentation. Because this pilot project aims to deploy innovative processing technology to recover critical raw materials from the tailings sand from LKAB's iron ore production. In particular, because the tailings contain both Phosphorus, the base of modern mineral fertilisers and Rare Earth Elements (REEs).
Demand and value for recycled minerals
David presented a poll with three straight forward questions. Close to 75 per cent answered that if performance was equal, they believed customers would prefer recycled minerals. Surprisingly, more than 50 per cent said pricing was lower, even when mineral performance is comparable. The industrial minerals market is fragmented, with numerous products and applications, which this exemplifies.
Strategies to increase the value of recycled minerals
In answering the final questions, the forum attendees foremost believed that policy and regulation could support an increase in demand and value and thereby help more recycling projects come to fruition. Examples mentioned were public procurement, regulations on the recycled ratio in products and similar actions.
David agreed but added "I also believe we need to make it easy for businesses and individuals to make the better choice, to choose sustainable materials, as an example recycled, low emission and ethically produced materials. To make this happen, I believe the industry will need to increase transparency, define common standards around what is sustainable and agree on ways to verify and trace this. If we include more stakeholders in the process, we can create a broadly accepted certification and labelling methodology as an example".
Recycling videos
We show that recycling is a topic we do not only talk about but something we act upon. Related to minerals recycling we have several videos that might be of interest to you:
Sustainable refractory recycling
Recycling offshore ballast material