Hydrostatic pressure challenge at Maasdeltatunnel
As with many tunnels that pass a channel or river, the influence of groundwater pressure – hydrostatic pressure – on the whole construction is significant. To ensure the vertical balance in the most critical construction phase, MagnaDense provides a temporary extra downward force. This temporary aspect makes this application unique as the extra ballast required is needed for a short period. In this case, the design allows the high-density aggregate to be in place for only a specific time span. MagnaDense will be taken out once the tunnel is finished. Usually, constructions for vertical balance are designed to withstand the most critical phase but will be left in the ground for many decades.
Space-saving solution
Many industries often use our natural mineral as ballast material because it provides more weight in less volume, resulting in space-saving. Our MagnaDense grades have particle densities ranging from 4.8 up to 5.1 t/m3. Bulk densities are easily twice as high as regular sand. In this particular application, where MagnaDense is placed underwater with a fall pipe vessel after which the water is drained out, it provides a bulk density of around 3.5t/m3 with no other compaction than achieved by the water passing through it!
Every meter of MagnaDense provides an additional 35 kN of downward force. Imagine how much slimmer the permanent construction can be designed as a result of that. An outstanding achievement concerning sustainability!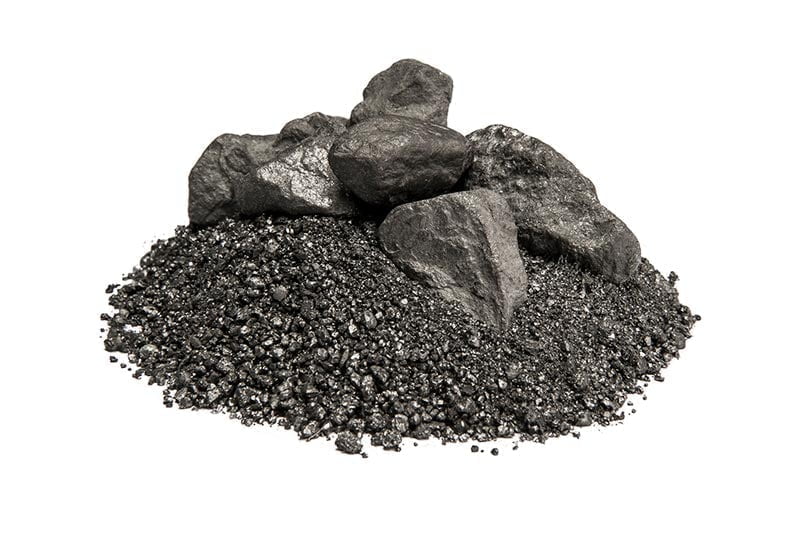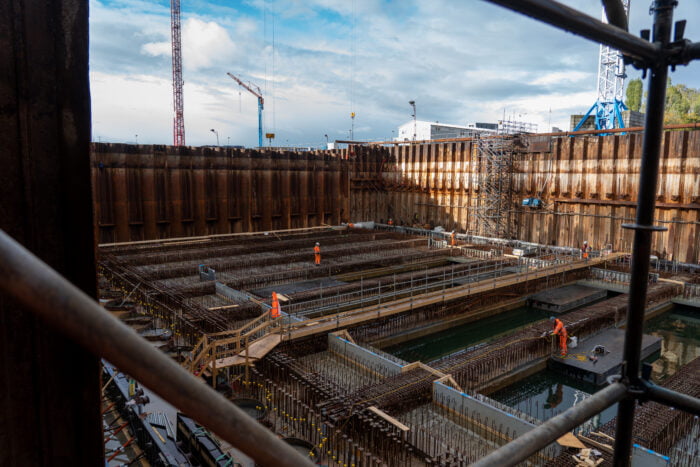 Our high-density aggregate is used in the Maasdeltatunnel to counterbalance hydrostatic pressure.
Once the tunnel is finished, the MagnaDense will be taken out and reused. This sustainable solution, both from a financial and an environmental perspective, is unique, and as far as we are aware, has never been done as such anywhere in the world!Unique cooperation

"We were contacted in September 2020 regarding the required temporary ballast for this tunnel. It perfectly matched our focus on promoting temporary ballast as an innovative way to reduce concrete and piles", says Leon Hendriks, Business Development Manager Magnetite at LKAB Minerals. In June and October 2021, 12,000 tonnes of MagnaDense were supplied to the project site.
Work in progress – using and reclaiming high-density aggregate
Leon continues, "We believe the method of temporary ballast to reduce the volume of underwater concrete and/or piles can be used more often. As always, innovations like this require out of the box thinking. You need the right type of people to understand where to use this even more. We know it's important to discuss this at the early stages of a project already. In this particular project, placing and taking out the MagnaDense was done using a known process; only the way of applying the minerals – temporarily – was a major difference."
Project with reclaimed MagnaDense
This tunnelling project in the Netherlands clarifies that sustainability is possible in more ways than ever imagined before; all it needed was some creative thinking.
There has been one other previous project in which MagnaDense was reclaimed and reused. That was with the Draugen offshore project, where the high-density mineral was recycled after 20 years of use in seawater.
"We see every time that out-of-the-box and forward-thinking is the best solution to encourage sustainable use of our materials. Sharing our knowledge and supporting our customers the best way we can, elevates the construction industry to look for a more sustainable solution for their projects encompassing our materials", shares Anders Lundgren, Chief Sustainability Officer at LKAB Minerals.
Important infrastructure project for Rotterdam
The BAAK construction consortium (Ballast Nedam, DEME and Macquarie) is building the Blankenburg connection on behalf of Rijkswaterstaat. This new highway, the A24, connects the A20 at Vlaardingen with the A15 at Rozenburg. The connection will reduce the pressure on the roads around Rotterdam and the Rotterdam port area. The Maasdeltatunnel is part of the Blankenburg connection. This tunnel continues under the Scheur, part of the Nieuwe Waterweg, at a depth of -26NAP. The A24 will open to traffic in 2024.
Project facts
Project: Blankenburgverbinding
Project owner: Dutch government through "Rijkswaterstaat"
Construction company: BAAK BV
MagnaDense delivery: June 2021
MagnaDense expected reclaim date: September & November 2022
Volume MagnaDense: 12,000 tonnes