Russian plastic market interested in natural mineral fillers
Russian plastic compound industry interest in natural minerals
"After previous visits to Interplastica, this was the first time I joined the event from an exhibition booth." Theodosios(Sakis) Chatzinikolaou, Sales Manager Polymers and Coatings at LKAB Minerals, tells us. He continuous, "And I can immediately notice the different result. Together with Yuri Ivanov, Business Development Director for Polychimcomplect-M LLC., we met over hundreds of interested people. I am confident that Russian plastic compounding companies will start trials with our different materials."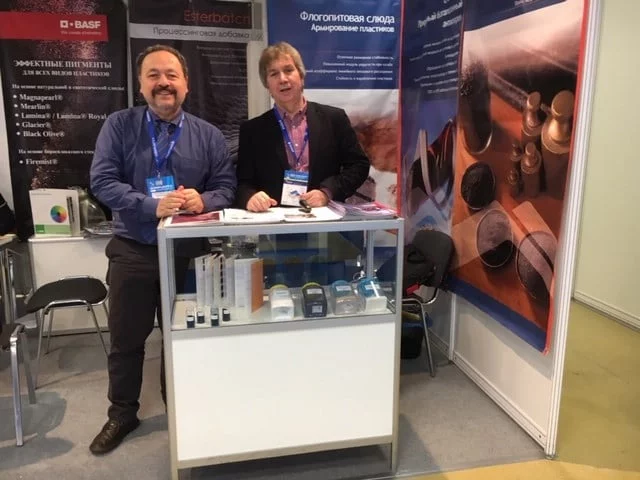 New natural mineral fillers for Russian market
Our MagniF, used as a high density or magnetic filler in plastics was getting a lot of attention from the visitors as this is not a known concept yet in Russia. Also, our UltraCarb, used as a flame retardant is still a relatively new product in this market. It offers several technical advantages over the well-known and used Russian brucite product. Of course, our products comply with the Russian standards which differ from the European in particular on the requirement for low temperatures.
Minerals for paint and coatings
Yuri says, "I am satisfied that we have participated in the Interplastica exhibition. We have a large portfolio of prospects as a result from this event. Having Sakis with me was particularly helpful when explaining technical questions from the audience. The results gives me great confidence that our participation to the next show Interlakokraska which is about paints and coatings, will also be a success with regards to promoting the LKAB Minerals' product range."
Russia is a market with a number of very large companies in both the plastic and the paint industry. We look forward to offer this market our solutions even more.
In case you missed the Interplastica event and can't make the Interlakokraska either, you can always contact Sakis directly for more information about our MicaFort, MagniF and UltraCarb products or ask for contact details of our Russian distributor.